by John de Cuevas
Illustrated by Sara Ferguson and Janet Young
Recited by Alec Baldwin and Blythe Danner
Eye Rhymes is a collection of 47 humorous verses based on words that look as if they should rhyme but don't (bomb, comb, tomb), illustrated with colorful, cartoon-like drawings, and including a sound track of two well-known actors, Alec Baldwin and Blythe Danner, reciting the verses.
For children of all ages from 9 to 99.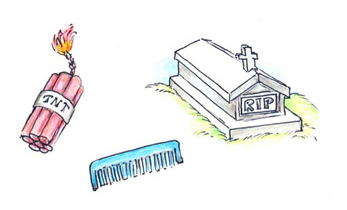 About the Author
John de Cuevas publishes cryptic puzzles on line at
Puzzlecrypt.com http://www.puzzlecrypt.com/ and in Harvard
Magazine on line at http://harvardmagazine.com/topic/puzzles. He
and his wife Sue Lonoff divide their time between Cambridge, MA
and Amagansett, NY.